Many in the microcomputer industry resented
IBM's power and wealth, and disliked the
perception that an industry founded by
startups needed a latecomer so staid that
it had a strict dress code and employee songbook
© Wiki
The routine business took an hour; for another hour the shareholders and proxies and company officers held a Yoyodyne songfest. To the tune of Cornell's alma mater, they sang:

HYMN
High above the L. A. freeways,
And the traffic's whine,
Stands the well-known Galactronics
Branch of Yoyodyne.

To the end, we swear undying
Loyalty to you,
Pink pavilions bravely shining,
Palm trees tall and true.

Being led in this by the president of the company, Mr Clayton ("Bloody") Chiclitz himself; and to the tune of "Aura Lee":

GLEE
Bendix guides the warheads in,
Avco builds them nice.
Douglas, North American,
Grumman get their slice.

Martin launches off a pad,
Lockheed from a sub;
We can't get the R&D
On a Piper Cub.

Convair boosts the satellite
Into orbits round;
Boeing builds the Minuteman,
We stay on the ground.

Yoyodyne, Yoyodyne,
Contracts flee thee yet.
DOD has shafted thee,
Out of spite, I'll bet.

And dozens of other old favorites whose lyrics she couldn't remember. The singers were then formed into platoon-sized groups for a quick tour of the plant...

---

Обсуждение рутинных вопросов заняло около часа, а еще один час акционеры, доверенные лица и чиновники компании посвятили празднику песни. На мелодию гимна Корнеллского университета они исполнили свой гимн:

ГИМН
Над дорогой быстрой, ровной
Он стоит один —
Филиал наш Галактронный
Фирмы «Йойодин».
До конца трудиться будем
В розовых цехах,
Ветви пальм мы не забудем
В синих небесах.

Запевал сам президент компании мистер Клэйтон Чиклиц по прозвищу Кровавый. Затем на мотив «Ауры Ли» хор запел:

ХВАЛЕБНАЯ ПЕСНЯ
«Авко» делает заряды,
«Бендикс» – к ним прицел.
«Грумман», «Дуглас» помогают —
Будет каждый цел.
«Локхид» с моря, «Мартин» с суши —
Это пуск ракет.
Нам на «Пайпер Каб» заказа
Не доверят, нет.
Спутник мчится по орбите
С маркою «Конвэйр»;
«Боинг» строит «Минитмсны» —
Нам земля милей.
«Йойодин», «Йойодин»,
Без контрактов ты.
Министерство обороны – Жадные скоты.

Далее спели еще дюжину добрых старых песен, слов которых Эдипа не запомнила. Затем певцы образовали небольшие группы, каждая размером примерно с пехотный взвод, и отправились в короткую экскурсию по заводу.

---

© Пинчон "Выкрикивается Лот 49"
Короче говоря - узнал о IBM-овском корпоративном песеннике 1937 года: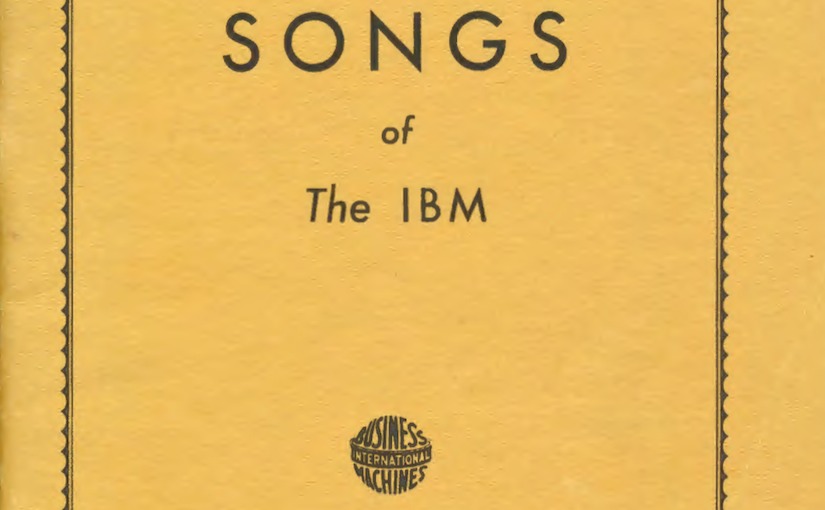 Thomas Watson is our inspiration,
Head and soul of our splendid I.B.M.
We are pledged to him in every nation,
Our President and most beloved man.
His wisdom has guided each division
In service to all humanity
We have grown and broadened with his vision,
None can match him or our great company.
T. J. Watson, we all honor you,
You're so big and so square and so true,
We will follow and serve with you forever,
All the world must know what I. B. M. can do.

—from "To Thos. J. Watson, President, I.B.M. Our Inspiration"

We don't pretend we're gay.
We always feel that way,
Because we're filling the world with sunshine.
With I.B.M. machines,
We've got the finest means,
For brightly painting the clouds with sunshine.

—from "Painting the Clouds with Sunshine"

Marching Along Together;
Pushing on through thick and thin.
Marching Along Together;
Determination's bound to win.
We will exert more effort;
We will apply more thought.
Throughout the year we'll prove to all what really can be done;
We'll work together all of us—we've got the battle won

—from "I.B.M. Hundred Percent Club Rally Song"
Полностью это чудо есть по приведенной выше ссылке

PS: Навел меня на это диво поиск по цитате из Вики приведенной в качестве эпиграфа